2022 conference round up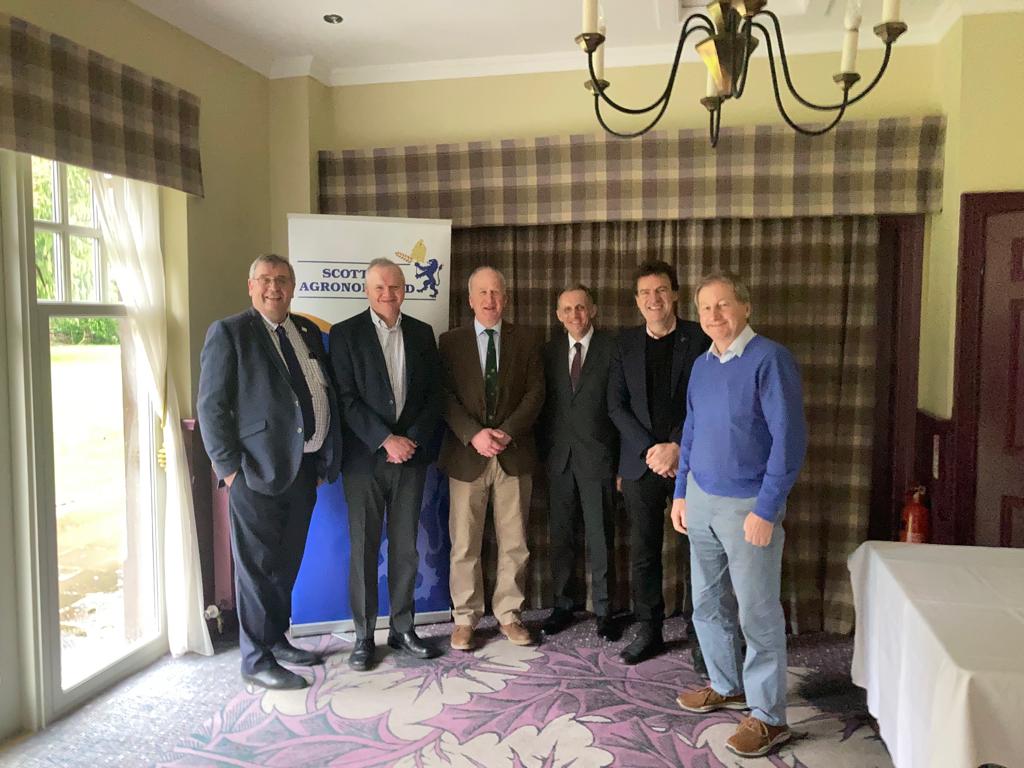 For those of you who missed the 2022 Scottish Agronomy conference, there were a few shared take home messages for members. There is general agreement that 'growing greener' is the inevitable direction of travel for future support payments and supply chain relationships, growers were urged to see the opportunity for cereal growers to meet net zero targets, not only for government goals but for their own farm's environmental and commercial sustainability, and how crop husbandry and agronomy can help achieve this.
The speakers shared their own experiences, each bringing perspective from different stages in the supply chain.
Scottish Agronomy member John Stirling talked through the journey of the spirits business he runs with his brothers, Arbikie Highland Distillery, to create a net zero gin, Nadar – one of the integral steps of the business in the ultimate pursuit of producing a lucrative 18-year-old malt whisky. John expanded on the value of growing heritage varieties and building a global business on its sustainability story.
Emphasising the advantages growers have in Scotland to be sustainable, and how that can improve profits, livelihoods and ecosystems, he reiterated that sustainability has to pay and all their decisions are based on commercial reality. See The Courier article from the conference here and we will soon also share a film of the Arbikie story.
Director of Technical and Sustainability of Muntons, Dr Nigel Davies, created the first carbon calculator for the malting industry. He illustrated how the maltster is working with the supply chain to reduce its environmental impact and the role of growers in this. He also highlighted the value of insetting – reducing carbon within the industry – rather than offsetting, ie paying others to do it for you, the practice of some large corporates. Cereal growers, he said, have a real opportunity to be not only carbon neutral but carbon negative. This is underpinned by resource use efficiency, measurement and innovation. See his report on Decarbonising UK Cereal Production.
Wheat breeder Bill Angus, through his own experience of trial, error and achievements in plant breeding, shared 13 myths about growing wheat. He explained that with a world population predicted to boom to nine billion by 2050, plant (and livestock) breeding will be at the heart of being able to feed the world and avoid the conflict, terrorism and mass migration that comes from food shortages. Genetics alone, however, is not enough, and needs, he says, to be complemented by good agronomy, attention to detail and the targeted use of technologies.  Farm North East will be sharing his myths and truths in its April issue.
Scotland's Chief Plant Health Officer Professor Gerry Saddler, representing Scottish Government, talked about trade post-EU exit, the void in research and development left by the demise of AHDB horticulture and potatoes and the challenge of labour issues. Questioned about the future of trade with Europe for the seed potato industry, he said anticipated an agreement may resemble Canada's Prince Edward Island model. Read the full story here.
Through a pre-recorded message, Lorna Slater, Minister for Green Skills, Circular Economy, Biodiversity and Plant Health, outlined the Scottish Government's commitment to support carbon audits, soil analysis and upskilling the sector in environmental practice. As part of the £26m programme with NatureScot, she explained that government will be supporting more targeted use of chemicals and greater use of IPM, while converting a fifth of Scotland's productive land into organic, the merits of which were queried by some in the audience.